About us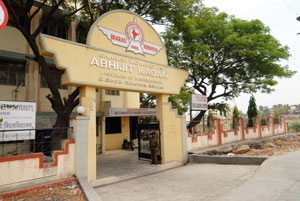 Abhijit Kadam Institute of Management and Social Sciences, Solapur is a premier social work School under the umbrella of Bharati Vidyapeeth Deemed to be University, Pune, which has got 'A' Grade Accreditation from NAAC.
Abhijit Kadam Institute Management & Social Sciences, Solapur the 'Flagship' institute of the Bharati Vidyapeeth Deemed University, Pune was established in the year 1982. This institute is one of the constituent units of the Bharati Vidyapeeth Deemed University, Pune since the academic year 2005-06. Taking note of our institute, it has been honored grade 'B' by the committee framed by the Directorate Social Welfare Govt. of Maharashtra in association with TATA Institute of Social Sciences, Mumbai in the year 2001-02.
We create an environment within which actionable learning takes place and thus provides the breeding ground for professional Social work in future. We presently offer post graduate degree of MSW (Master of Social Work) approved by Directorate Social Welfare, Pune
The institute has an excellent full time faculty with a proven track record and a slew of visiting faculty who bring the experience of the real world into the classroom. Specialist scholars come and deliver lectures enabling the student to expand their horizons of GYAN, (knowledge) in the field of Social Work.
Salient Features
The Dept. of Social Work has splendid academic record.
Recognized, approved, qualified and experienced faculty members.
Well equipped and full-fledged library with internet and DELNET facility.
Rural camps and study tours.
Field work training to Students.
NSS
Block Placement
Sports facilities (indoor and outdoor)
Placement cell
Skill Lab
Cultural activities