Library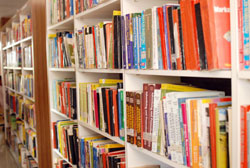 Library is the focal point of the institute and it is well stocked with 18,564 books and 96 national and 21 international journals. There are all types of magazines and periodicals related with the field of management, computers, humanities. The library has a specious reading room open to students throughout the day.
We provide DELNET facility to access number of journals for the reference of students, academicians & research scholars.
Library is kept open two hours on holidays and during examination up to 11.00 pm.
Recent books, CDs and periodicals are added every year. The faculty is provided with internal facility through LAN.